Company Profile
| | |
| --- | --- |
| Company Name | NTL NAIGAI TRANS LINE (USA) INC. |
| Established | January, 2002 |
| Address | 970 W 190Th St., Suite 580, Torrance, CA 90502 |
| Telephone | 310-436-8700 |
| Fax | 310-436-8701 |
| Email | info@ntlusa.com |
Our Policy
Our fundamental policy is "to give complete satisfaction to customers through our customers-oriented services."
To materialize this policy, we are determined to carry out the following hard and steadily as a trustworthy provider of logistics services.
We always listen attentively to what customers say, understand fully what they need, and give them the optimum logistics services. To this end, we endeavor to improve our logistics services system on a day-by-day basis.
We put ourselves in customers' shoes and make efforts every day for the betterment of services so that customers may be prompted to use our services repeatedly.
In due consideration of customers' requirements for SCM, 3PL and "Just In Time" logistics services, we keep our business networks covering our overseas corporations and partners up to date to serve customers on demand.
Rapid changes are seen in many spheres of the world economy; production bases are being shifted one after another from Japan to China and other foreign countries, causing logistics services to change accordingly. Therefore, we continue to be alert for changes in logistics requirements and to be quick in satisfying them.
In view of global information technology, we have established the website tracking system as a case of pre-empting the future for the sake of our customers. We assure you of following "the customers' convenience first" policy in meeting changing needs of the times.
All of us at Naigai Trans Line ensure that we will do our best to attain the above-mentioned goals to satisfy customers' requirements and continue to be able to do so.
Our Mission
We listen attentively to the "voice" of customers and provide them with "services" optimum to their requirements. This is Our Mission.
First of all, please inquire of us about any of your transport needs. We help you with handling even a small quantity of cargo, transport to overseas ports with no direct service from Japan, shipment in the tripartite trade requiring complex transport documentation and any other requirement.
We have close relations with many ocean carriers.
With our overseas corporations established in North America and Asia (Singapore, Bangkok, Jakarta, Shanghai and Korea), we have global logistics bases working together with our agents all over the world. This worldwide logistics system enables us at all times to listen attentively to the "voice" of customers.
Always at your disposal are our appropriate advice and service from our logistics experts at home and abroad in ocean transport, customs clearance, shipment, trade, foreign exchange, etc.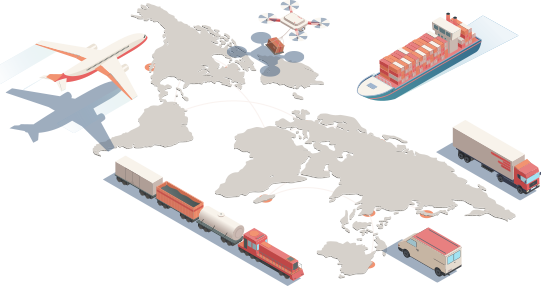 Our Goal
Since the founding of Naigai Trans Line in 1980, it has been the target of our constant efforts to set up "the economical, safe and secure transport route" to meet any of our customers' requirements.
Based on the accumulation of such exertions and many customers' support, we have steadily developed into a reliable provider of logistics services to satisfy changing needs of our customers.
With renewed thanks to each of our customers for many years of support and cooperation, we assure that we will continue to grow as your logistics partner, with top priority placed on the following.